Trail Construction Update: August 2023

Final 1.5 miles of trail COMPLETED. Trail is open end to end!
Trail Construction Update: December 2022
Contractor has been selected and authorized to begin project. Unfortunately, actual construction is now delayed until Spring 2023 due to production delays in the manufacture of a steel bridge needed to span the Roullard Ditch.
The Town of Severance has completed concrete paving of a section of trail north of CR 72 (Tinsman Ave). This will connect the Severance Community Park to the new sidewalks west of the trail along CR 72. A flashing crossing sign will also be installed at this intersection.
Trail Construction Update: August 2022
Property boundary issues have been resolved, plans for final 1.5 miles of trail construction east of Severance have been approved. We expect to advertise for construction bids in August, select contractor in September, and begin construction in October. Completion anticipated by year end 2022.
Trail Construction Update: November 2020
Construction of 5.5 miles of trail west from Eaton to Roulard Lake is now complete! With the installation of Trail Crossing signage at each county road, we are proud to announce the opening of this beautiful new section.
Trail Construction Update: August 2020

Construction of 5.5 miles of trail west from Eaton to Roulard Lake is nearing completion!
A crusher fines trail surface has been laid down, formed and compacted. The converted Roulard trestle bridge is awaiting back-ordered lumber to complete the railings. Signage has yet to be installed, and trail opening will not occur until all required safety and road crossing signs are up, Planting of native grass seed alongside the 10′ wide trail is scheduled for mid-September,
Trail Construction Update: May 2020
From bids submitted in April, GWTA selected L4 Environmental of Lyons, CO as the contractor for the 5.5 miles of trail improvements from Eaton to just west of CR 27. We expect to have a schedule for the staging of construction along the trail corridor by mid-May, with activity to begin in June. For specific questions, please e-mail us at info@gwtrail.com!
Trail Construction Update March 2020
The Great Western Trail is moving forward again! After a delay of nearly a year, GWTA recently advertised for bids on construction of 5.5 miles of new trail. A contractor will be selected from bids received by April 2 to install a new 10' wide crusher fines trail surface within the historic Great Western Railway right-of-way, running from Cheyenne Avenue in Eaton west to approximately County Road 27. Construction is slated to begin in June and expected to be completed within 90 days.
Originally planned as the 7 mile completion of the trail from Eaton to Severance, the 2020 project has been reduced in scope while GWTA continues efforts to resolve an unforeseen property boundary issue. We expect to complete the final 1.5 miles of trail in to Severance in 2021.
Reminder – please help keep our Trail safe!
No Motorized Vehicles
In spite of signage posted along the GWT at nearly every county road crossing, the GWTA still receives reports about motorized vehicles using the trail. This usage not only damages the trail surface, but can be a deterrent to bikers and pedestrians for whom the trail was designed. We encourage anyone who witnesses this prohibited activity to report such to law enforcement in your jurisdiction. If the violator and/or license plate of the vehicle can be determined, all the better.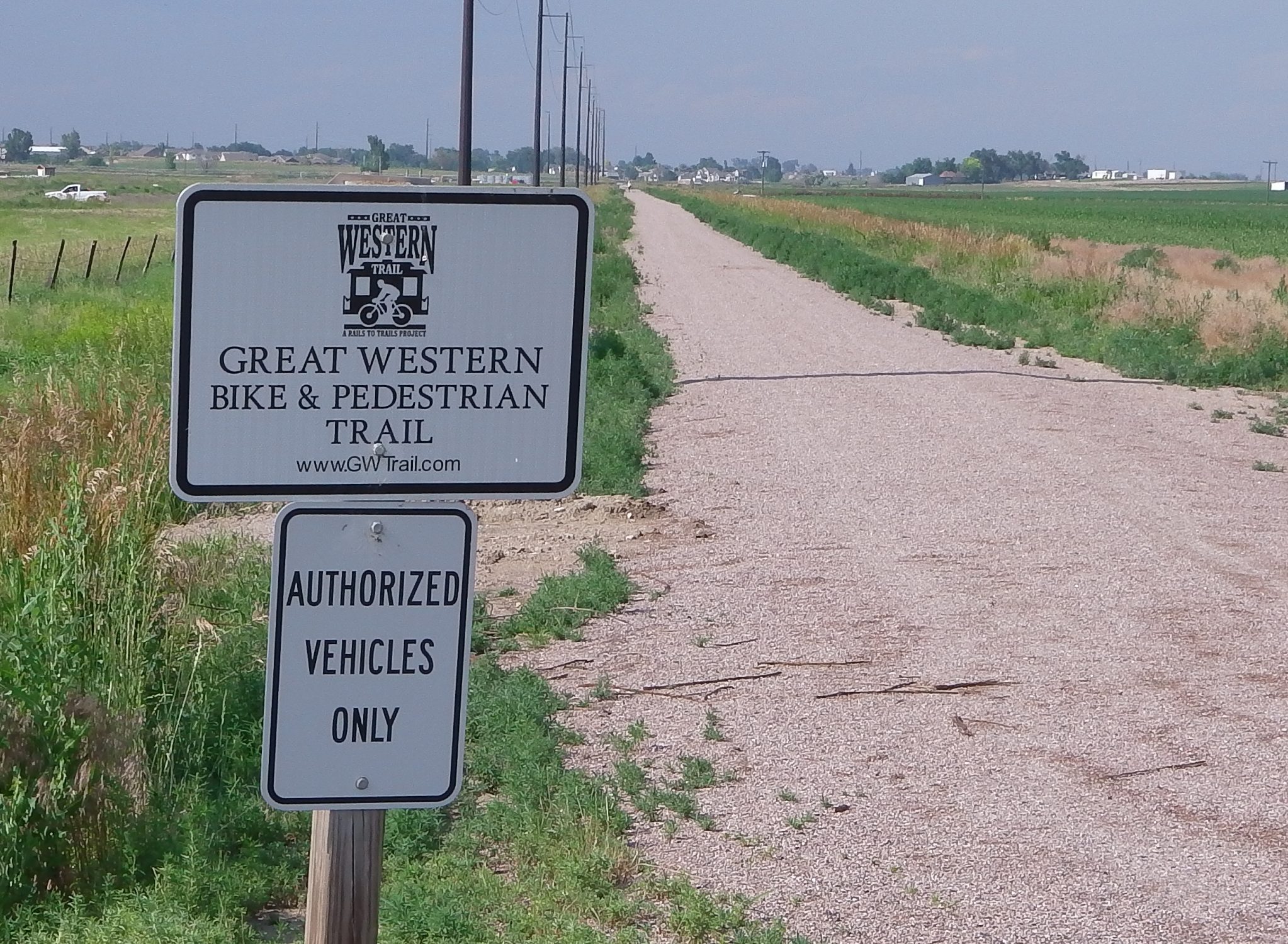 Leash and pick up after your dogs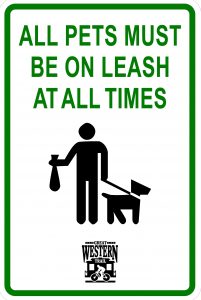 For the safety of other trail users and and our trail neighbors, dogs must be on leash whenever on trail property.
It is also important for the health of all users to pick up and properly dispose of your animal's waste. There are Pet Waste Stations with bag dispensers and waste cans at three locations currently along the trail. Please be considerate of others and pick up after your dog!
---
Pre-construction clean-up has begun
GWTA has begun clearing the trail right-of-way between Severance and Eaton in preparation for  construction later this summer. Trash, trees and weeds will be removed and the old rail bed bladed to allow vehicles to drive on the trail. This will allow potential contractors to fully examine the project area before bidding, as well as facilitate GWTA's weed abatement efforts along the corridor. In some areas, prescribed burns will be used to clear overgrowth.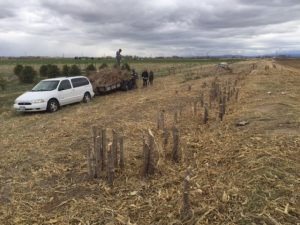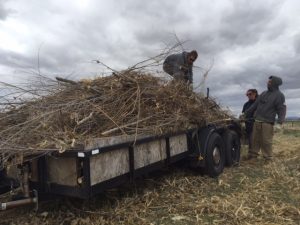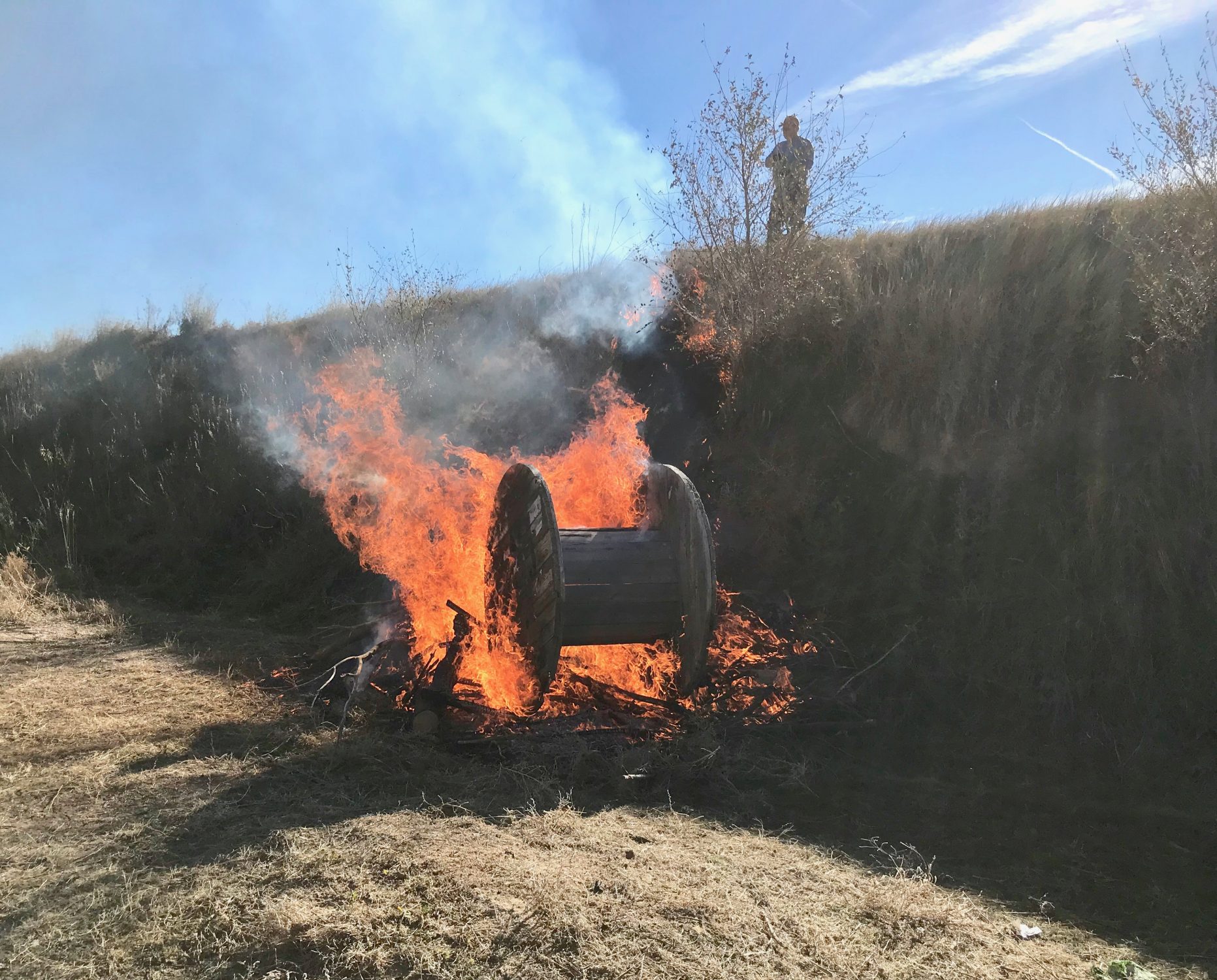 ---
Colorado the Beautiful Grant awarded to GWTA
In November of 2018, the GWTA was awarded a $250,000 Colorado Parks and Wildlife grant. This grant, when added to our previously-awarded Federal TAP grants, gives us $1,450,000 with which to finish the 7 miles of trail between Severance and Eaton. The GWTA plans to put the project out for bid in April of 2019, select a contractor in May, and hopefully finish the trail by October. The engineering has been completed and we are waiting for environmental clearances from the federal government. Construction is estimated to take 90 days.
---
Severance to Eaton Trail Construction to begin in 2019
In the spring of 2018, Interwest Consulting Group of Windsor was retained to survey, design, and engineer the 7 miles of trail right-of-way between Severance and Eaton. Their work will be completed in early 2019, after which the Great Western Trail Authority will solicit construction bids. Construction of the 7 miles of new trail is projected to begin in August 2019.  When finished, the new trail will connect with the existing 3 mile section running from Severance south to Windsor, completing the 11 mile long Great Western Trail. 
Click here to see a map of the Great Western Trail
---
Aerial view of entire Trail (pre-construction)
Drone flyover of the Great Western Trail corridor from Eaton to Windsor, July 2016
---
Great Western Trail and Its New "Neighbors"
In 2006, when the Great Western Trail project began, the only activities next to the trail were farming operations. Over the past 12 years, the following additions have taken place along the trail:
Severance Middle School
The Hidden Valley subdivisions – Severance – 600 lots
Village East subdivision in Windsor – 145 lots
The Eaton Recreation Center- 1 mile west of Cheyenne Ave. in Eaton
New Severance High School, opening in 2019
In addition, another 3000 residential lots are planned for development over the next several years in Severance. The Great Western Trail is the centerpiece of the planned Severance Community Park.
We expect many more trail users as the populations in the 3 towns continue to grow. The trail will offer a convenient, non-motorized mode of transportation between the communities.