Aerial view of entire Trail
Drone flyover of the Great Western Trail corridor from Eaton to Windsor, July 2016
---
Great Western Trail and Its New "Neighbors"
In 2006, when the Great Western Trail project began, the only activities next to the trail were farming operations. Over the past 12 years, the following additions have taken place along the trail:
Severance Middle School
The Hidden Valley subdivisions – Severance – 600 lots
Village East subdivision in Windsor – 145 lots
The Eaton Recreation Center- 1 mile west of Cheyenne Ave. in Eaton
Construction has started on the new Severance High School
In addition, another 3000 residential lots are planned for development over the next several years in Severance. The Great Western Trail is the centerpiece of the planned Severance Community Park.
We expect many more trail users as the populations in the 3 towns continue to grow. The trail will offer a convenient, non-motorized mode of transportation between the communities.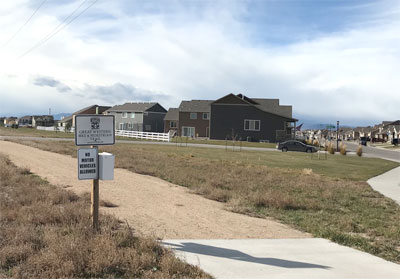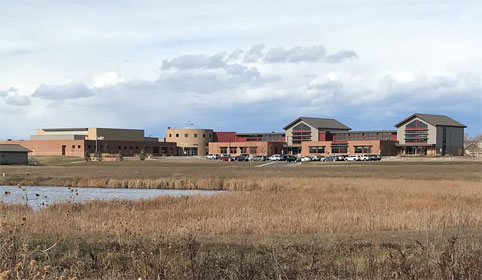 Severance to Eaton Trail Construction
In the spring of 2018, Interwest Consulting Group of Windsor was retained to survey, design, and engineer the 7 miles of trail right-of-way between Severance and Eaton. Their work will be completed in November of 2018 after which the Great Western Trail Authority will solicit construction bids. Completion of the 7 miles should take about 2 months. If adequate funding is available, the trail should be completed in the summer of 2019. When finished, a bicyclist, runner, or walker will be able to start on the Great Western Trail in Eaton and access the Poudre River Trail and Windsor Lake Trail via connections in Windsor.