Aerial view of entire Trail
Drone flyover of the Great Western Trail corridor from Eaton to Windsor, July 2016
---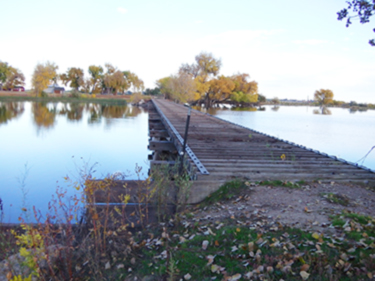 Grant
In January of 2015, the Great Western Trail Authority received a $550,000 CDOT grant to help complete the 7 miles of unimproved trail between Severance and Eaton.
In 2017 the surveying, design, and engineering will be completed.
Construction is expected to be completed in 2018 when all of the grant proceeds have been received.
---
Village East Subdivision
The developer of the Village East Subdivision, that is currently under construction adjacent to the Great Western Trail in Windsor, has agreed to pave approximately 1/4 mile of the trail in concrete.
---
Recent Improvements along the Great Western Trail
Construction Update: Construction of a new crusher fines trail surface from CR 74 in Severance southwest to CR 21 has been completed. The 3-mile section of trail improvements was funded by grants from Colorado State Trails and Safe Routes to School, and by contributions from Windsor, Severance, Eaton, West Greeley Conservation District, Weld County Youth Conservation Corps and KBN Engineers.
Eaton Trail Update: Board member Steve Bagley has been working on the section between CR 33 and CR 31 with his tractor and walk-behind rotary cutter. Clearing and rough grading of the old rail bed will allow trail users to now walk 3 miles west from Eaton.
Video slideshow of the first Great Western Trail Bike Rodeo at Severance Middle School, August 2011.